Hello from Rockville. I've been in the hobby almost continuously for more than 50 years (I started as a child as my dad had aquariums). I retired several months ago (but still consulting), and now have more time to spend with the hobby. My aquarium is a 125 I've had for more than 25 years. For the last 15+ years, I've kept mixed Africans--before that it was rainbows, and before that South Americans.
Ever since Tropical Fish World closed many years ago, my tank has languished a bit. Jim always had a great selection of Africans. About a year ago, I cleared out the 70+ Brichardi that had been breeding out of control—then I started to restock the tank. (Yes, the remaining Brichardi are still breeding!)
I recently changed out the canister filters for two Fluval 407s. For the past 25 years I've been using the same three Magnum 350s—they were still working fine (they were incredibly reliable beasts!), but routine maintenance parts are now getting hard to find as the Magnums were discontinued a few years ago. If anyone wants four working Magnum 350s (one is a new spare I had kept around) and many spare parts, let me know.
I'm looking for local suppliers of Africans other than Congressional—I think I saw someone post some local breeders names—any thoughts on them would be appreciated. How's House of Tropicals these days? It's been a long time since I've been there.
Thanks, Jeff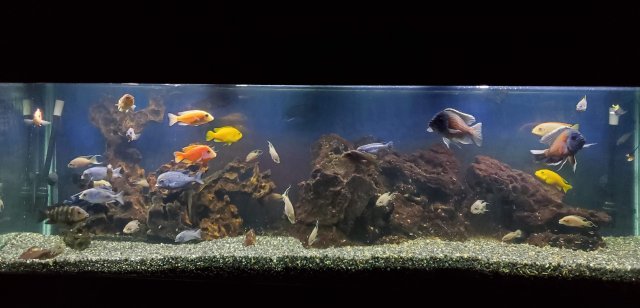 Last edited: