So with the covid crisis and the end of the spring semester, I'm starting up some fish tanks. I'm Not sure you can call it a "fishroom" per say, but its definitely something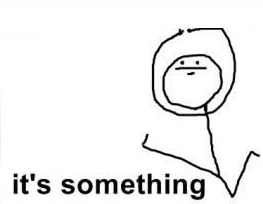 Anyway I thought i'd keep a log here to share my progress and get some feedback and advice from forum members as things come up.
I live in a 615 sqft apt (with my spouse) in graduate campus housing at Berkeley so space is tight.
Tank list:
3x 40 gallon breeders
1 x 29 Gallon breeder
1x 18 gallon bucket
1x 27 gallon plastic bin
I was able to score the 40 breeders for $1 a gallon, and the 29 gallon with a stand for even less! Also the plastic bins came free! (did i mention that i am in school and trying to make this work on a budget?)
To house the 40 breeders I shelled out $63 online at home depot on these Edsal brand shelves.

The shelves hold 800 lbs each, with one set of shelving able to hold up to 4 40xbreeders, amazing! These stands won't arrive for another few days though.
One of the 40 breeders will be heavily filtered (at least 2x Aquaclear 70s, maybe even 3?) and is staying inside. Here I'm trying to keep a pseudo-central/south american planted community tank. Its going right next to our kitchen table, and is meant to be a bit of a showpiece for the apartment,
For this tank I'm trying to keep a central/south american planted community tank, but want to try to leave room (or create room either with plants and rocks or outright dividers if need be) so that some of the species might be able to breed (making a separate thread to discuss this idea of a "community breeder").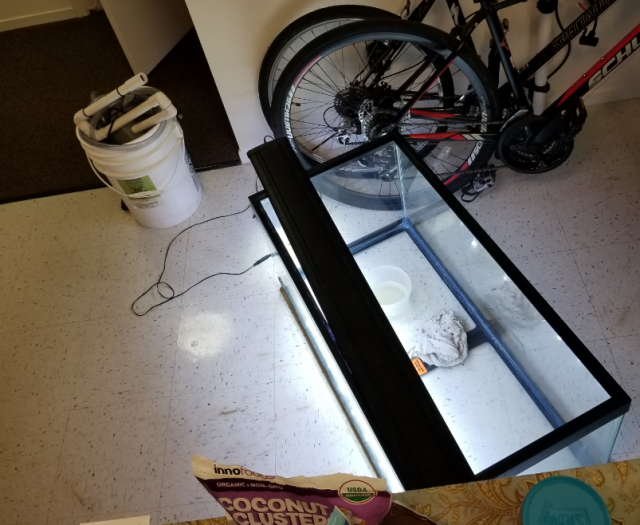 The 2 other 40 breeders, the 29 gallon long, and the two bins are going out on the patio. Out there I have access to electricity for lighting and heaters, and have a linear piston air pump (from Jehmco), with sponge filters and tubing for days. I've also got a couple more HOB filters. I installed a rack on the back of the 29 gallon stand to hold the airpump's manifold. Its clearly early days, but ultimately I'm going for a clean look here, as my girlfriend likes to use the patio for video conference calls.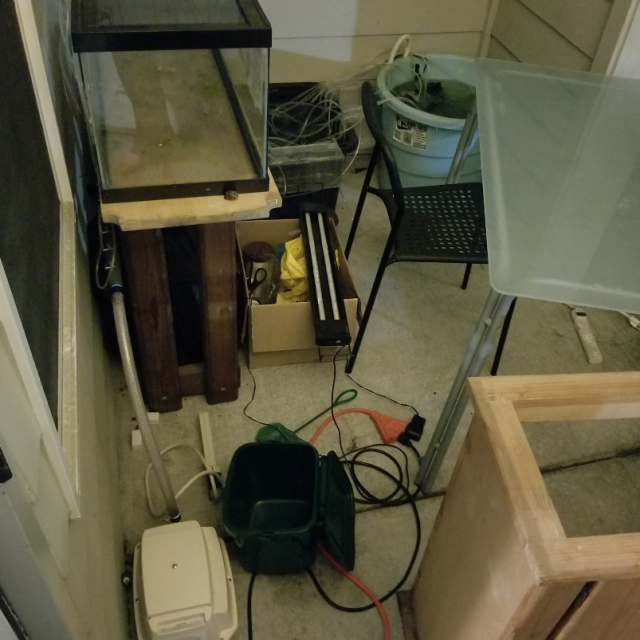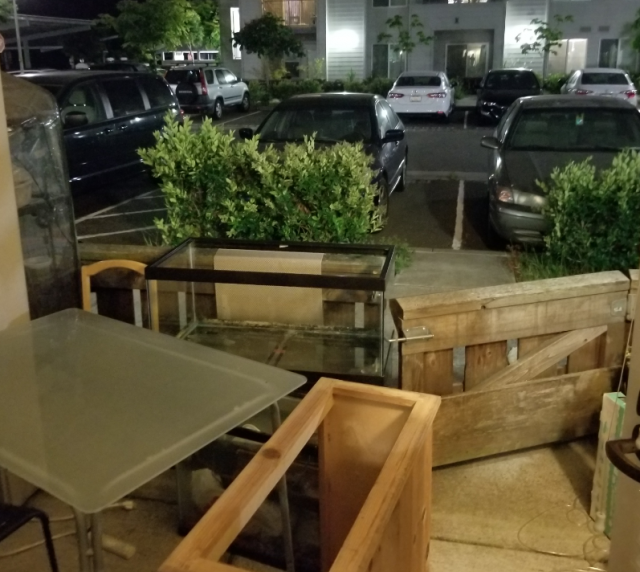 (yes thats my blue accord behind that shrub. I've got this tiny patio and then a sidewalk on the other side of that wooden fence, and then parking for my neighbors)
After a few hours work: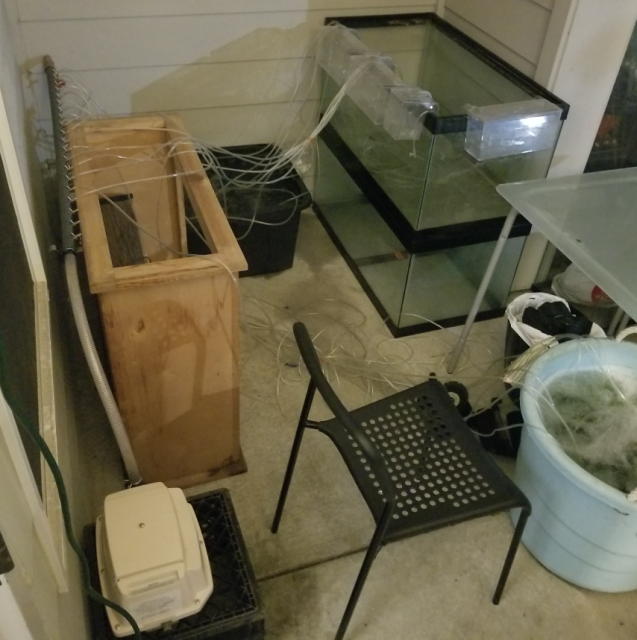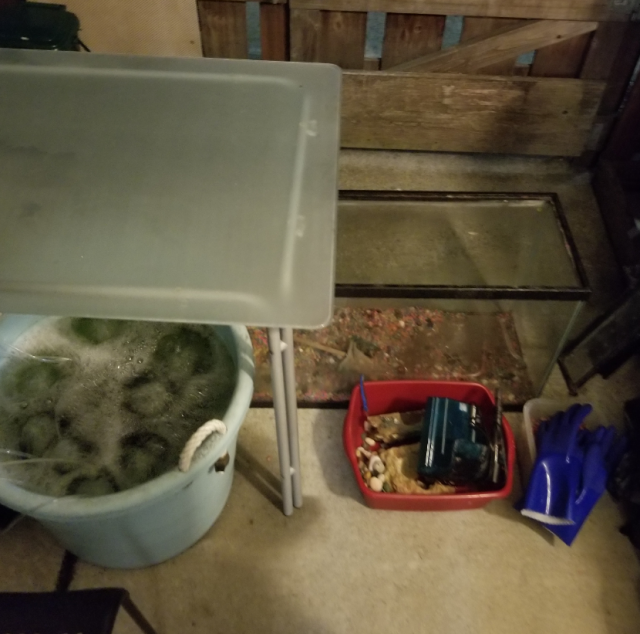 (the 29 gallon came with a big pile of rainbow gravel (aka clown barf) which i'm having to shovel out before i can clean it... ah the joys of used tank buying).
These will be my first truly outdoor tanks and i'm undecided: should I out right keep cold water fish (or shrimp?) or do I try to raise the temps in these tanks by enough to be able to keep warmer water fish?
The summer here calls for daily highs in the mid 70s, and nightly lows in the low 50s. Also these tanks will not be exposed to direct sunlight at all during the day.
Almost a priority for me is that i choose easy to breed fish (though preferably not livebearers). At the moment i'm considering a couple colonies of white cloud mountain minnows (one gold one silver), as I hear they are pretty temperature tolerant.
I also have lights i can use to help with outdoor plant growth. Any ideas for easy to grow plants in these conditions? At the moment i'm planning on keeping the outdoor tanks bare bottom, but would love to give eggs and fry some cover.
Thats all for now, my next steps are to do some tank and filter cleaning, and then build the 40 racks when they arrive. Will keep this thread posted!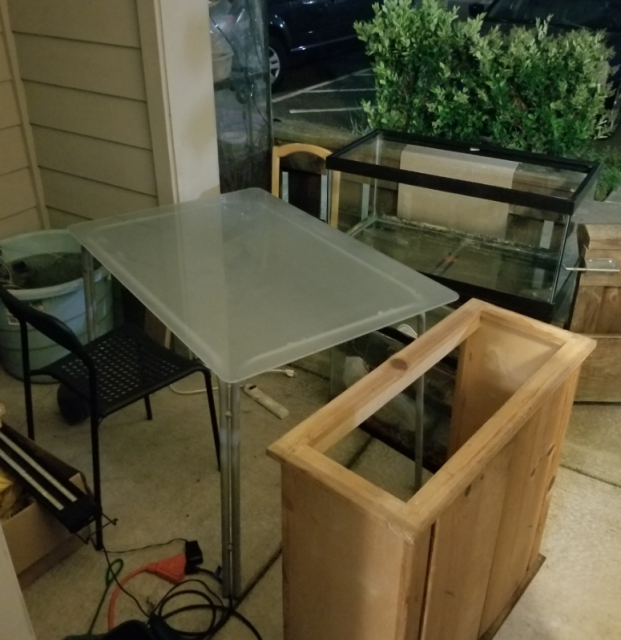 Last edited: