Chairpersons
Staff member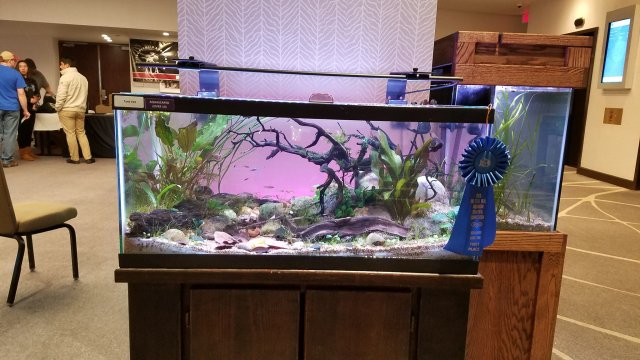 Includes:
40 gallon breeder aquarium (< 1 year old), no scratches.
Solid wood cabinet stand with "walnut" stain.
Glass lids
36" Current Serene LED kit (retails for $220), plus extra background film.
Substrate (if you want it)
Hardscape (if you want it)
Some plants (if you want them)
I will include, if you would like, a Cobalt EXT canister filter, but I will not include the pump that goes with the filter. These filters have an awesome design, but apparently the quality of the pumps is not what it used to be. The pump is leaking voltage. The Cobalt heater is also leaking voltage and I'm not about to give that to anyone, either. Pretty sure I'm going Office Space on both of them when I get home.
Pick up in Damascus, MD. Can deliver within 10 miles of my house, but you have to have someone there capable of unloading it.
$300 or best reasonable offer - I'm not totally nuts, I do realize it's *only* a 40 breeder and the light is the best thing it's got going for it at this point.